11th World Congress on
Virology and Infectious Diseases
Tokyo, Japan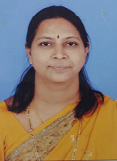 Gandhi Medical College ,India
Title: Phylogenetic Analysis of Norovirus and Detection of New GII.4 variant in children under 5 years of Age.
Biography
Biography: K.Nagamani
Abstract
Noroviruses (NoVs) are the main viral agents in acute diarrhea outbreaks and sporadic cases for all age groups worldwide. Noroviruses are considered fast-evolving viruses and present an extensive diversity that is driven by acquisition of point mutations and recombination. Since the mid-1990s, six global epidemics have been documented and each has been associated with the emergence of a new GII.4 variant. US 1995-1996 virus, Farmington Hills 2002 Virus, Hunter 2004 virus, Pandemic strains Den Haag 2006b and Yerseke 2006a, New Orleans 2009, Sydney 2012. Despite this extensive diversity, a single genotype (GII.4) has been shown to be the most prevalent in humans worldwide. Thus, the present study was aimed to determine the molecular epidemiology, prevalent genotypes and phylogenetic analysis of norovirus infection in symptomatic and asymptomatic children less than five year of age in Hyderabad region, India.
Methods:The stool samples and clinical data were collected from 458 children less than 5 years of age comprising of cases with acute gastroenteritis (n=366) and control group (n=92) admitted to the paediatric ward.The study was approved by Institutional Ethical Board.All the samples were tested for Norovirus antigen detection by sandwich-type ELISA and nucleic acid detection byRT-PCR and sequencing was done for predominant strain.
Results:Of the total study group (n=458), (n=366) are cases and (n=92) are control group. A 8.7% (n=32) of cases and 3.2% (n=3) of control group were found to be Norovirus positive by ELISA method. 19.6% (n=90) children has taken rotavirus vaccination. Disease severity was found to be with less than 9 episodes of loose stools (p<0.05), 6-7 episodes of vomiting (p<0.05), mild dehydration, and abdominal pain were observed in cases. Prevalence of Norovirus infection was found to be 10.3% by RT-PCR. Predominant genotypes were GII-82.5% (n=33) followed by GI-12.5% (n=5). Phylogenetic analysis of genotype GII was done for 20 samples by MEGA6 software by maximum-likelihood tree were two cluster of Norovirus GII.4 was observed. The cluster was distinct from remaining GII.4 variant were 18 belong to one and 2 belong to another sub cluster.
Conclusion:Emerging of new GII.4 variant was observed in this study. Monitoring and proper diagnosis is needed to reduce the burden of illness due to Norovirus and detection of emerging new Norovirus variants.