Day 1 :
Keynote Forum
Founder and President, PD Science, LLC USA
Time : 09:00-09:45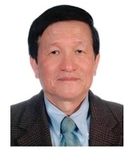 Biography:
Ting-Chao Chou (born in Taiwan), received M.S in pharmacology, National Taiwan University, Ph.D. in Pharmacology from Yale University in 1970, and postdoctoral fellowship from Johns Hopkins University School of Medicine. Member of Sloan-Kettering Cancer Center (MSKCC) and Professor of Pharmacology at Cornell University Graduate School of Medical Sciences. He is Honorary Professor at Chinese Academy of Medical Sciences (1993-) and Visiting Professor at five universities. He was Director of Preclinical Pharmacology Core at MSKCC where he retired on June 1st, 2013. Dr. Chou published >300 articles, have been cited 22,589 times in 850 different bio-medical journals, with h-index: 65, based on Google Scholar Citations. He is inventor/co-inventor of 38 U.S. Patents. Dr. Chou is the Founder of PD Science, LLC., USA.
Abstract:
The therapy of AIDS and cancer rarely used single drugs, but rather have used two or more drug combinations. Drug combination may provide benefits of synergistic therapeutic effect, as well as reduced toxicity, minimized or delayed development of drug resistance, or allowed attacking multiple receptor or etiological targets. The important basic requirments for these aims are: i) Definition of synergism and its quantitative determination using the combination Index (CI<1); ii) Simple and efficient experiment design using small number of data points and small number patients in phase-I clinical trial design using the mass-action law based "minimum of two-data point theory" for dose and effect dynamics ; iii) The theoretical basis for the Combination Index for 3 or more drugs combinations using the "Polygonogram". The original CI equation, theory, algorithm, and computerized simulation of synergism and antagonisn were presented in Chou TC & Talalay. Adv. Enz. Regul 22:27-55, 1984, cited 4,357 times in 850 different journals); in Chou TC. Pharmacol Rev 58:621-681, 2006 (cited 1,298 times in 342 journals); and in Chou TC. Integrative Biol. 3:548-559, 2011 (featured on the front-cover of the May issue, published by RSC Cambridge, UK). Questions to be asked are: How to assess combo synergy quantitatively for 2 or more drugs?; Are the Combos on the market the best in synergy?; Do peer reviewers, journal editors and governmental regulatory agencies really understand "What is synergy?. These issues will be discussed and the answers will be provided.
Keynote Forum
HHV-6 Foundation,KHG fiteBac® Technology,USA
Time : 09:45-10:30

Biography:
Dharam V. Ablashi is a microbiologist. He has published over 300 articles on herpesviruses and HIV. His major interests are assessing pathogenic roles of viruses in diseases, and in developing antivirals as therapeutic reagents. He has a BSc, and a D.M.V from Panjab University India, a Dip. Bact from I.V.R.I, and MS in Virology from the University of R.I., USA. He worked 23 years at NIH. In 1986, he co-discovered human herpesvirus-6 (HHV-6), a highly neurotropic and immune suppressive virus. He was as an adjunct professor at Georgetown University School of Medicine, Washington, DC, and Director of Herpesvirus Research in a diagnostic company. Currently, the Scientific Director of the HHV-6 Foundation, and the Senior Technology Adviser at KHG fiteBac Technology in Marietta, Georgia.
Abstract:
HHV-6 and HHV-7 were discovered in 1986, and 1990 respectively. They are acquired in early childhood, and after primary infection become latent. Their prevalence in the various populations throughout the world is VARIABLE (> 44->95%). Once they reactivate, they play an important role in pathogenesis of various diseases. HHV-6 is associated with neurological and non-neurological diseases. HHV-6 is re-classified as HHV-6A, and HHV-6B. HHV-6A is associated with multiple sclerosis, mood disorders (Bi-polar disease), myocarditis, and cardiac myopathy, and gliomas. Similarly, HHV-6B infection has been found in heart disease (myocarditis, arteriosclerosis, heart failure), idiopathic pneumonia, MTLE, status epilepticus, lymphadenopathy, Hodgkin's disease, (nodular sclerosis). HHV-7 pathogenesis is not well documented. Like HHV-6B, it is the causative agent of exantem subitum, febrile convulsions, and found in 7% cases of status epilepticus, meningomyelitis, and hemorrhagic brainstem encephalitis. The reactivation of these viruses does lead to preferentially bone morrow transplant rejection. They are also found in a variety of autoimmune disorders (scleroderma). The most fascinating era of HHV-6A, HHV-6B, and HHV-7 research show that amongst the 9 HHVs, they are the only viruses that integrate at the telomeres of the human chromosome during latency (cihhv-6). Based on various studies, it is estimated that between 40 and 80 million people worldwide carry inherited HHV-6, acquired through germline. Such individuals are at risk to various infections e.g. angina pectoris, x-linked severe combined immune deficiency, CNS dysfunction. Their replication is treatable with antivirals. We will review the current basic and clinical findings.
Keynote Forum
Meharry Medical College,USA
Time : 10:30-11:00

Biography:
I have a background in Pediatrics and Pediatric Infectious Diseases, including Board Certification and recertification, as well as expertise in evaluating immunities to vaccine preventable infections in HIV-infected and HIV-exposed children. My research in this area was initiated as a fellow at Mount Sinai Medical Center, New York, where I evaluated the immunogenicity to the hepatitis B vaccine in HIV-infected children. Subsequently, I was able to successfully develop and conduct an RC1 research project evaluating serotype specific antibodies to S pneumoniae in US-born versus Hispanic pregnant women and cord blood samples of their infants. This resulted in a publication in the May-June 2012 issue of JNMA.
Abstract:
Immunity to varicella and measles have not been compared in HIV seropositive and rnseronegative pregnant women and their infants. Antibody levels to varicella and measles were rnevaluated in 14 HIV seropositive and 34 seronegative pregnant women, 14 HIV exposed and 26 rnun-exposed cord bloods, and followed-up prospectively in 23 HIV exposed and unexposed infants rnaround 3- 7 months of age by ELISA (99 samples) and by EIA (13 samples) for measles and byrnimmunofluorescence (IFA) for varicella. Correlates of immunity were defined as antibody levels rnmeasles (> 1.09 OD ratio or EIA) and >1:8 IFA for varicella. Antibody levels were correlated with rnT cell counts in HIV seropositive mothers. Mean (range) ages of women at time of serologic rntests were 27 (18-40), and 25 (15-41) years for HIV and control groups, respectively. Antibody rnlevels to measles were significantly (P= 0.04) lower in cord bloods of HIV exposed infants rncompared to the controls. T cell counts were lower in HIV seropositive women non-immune rn(268/mm3) to measles compared to those immune (618/mm3), but insignificantly (P= 0.07).rnImmunity to measles and varicella as recognized by antibody levels declined significantly in rnboth HIV exposed and unexposed infants by 3- 7 months of age.rn
General Virology and Basic Science
Clinical and Neuro Virology
Respiratory and Emerging/Re-emerging Viruses
Agriculture and Plant Virology